Planned Events
of the International Hajji Baba Society


*Some programs such as salons and home visits marked with an * are open only to Hajji members and require pre-registration two weeks in advance of the event. Information on location and how to register will be forthcoming.



DATE: Saturday February 13, 2016
TIME: 10:30am
LOCATION: The Textile Museum, 701 21st Street, NW
SUBJECT: Designing High-End Fabrics in Paris
SPEAKER: Karthika Audinet

At this TM Rug and Textile Appreciation Morning, IHBS member, designer, educator, and entrepreneur Karthika Audinet will share her experience of designing furnishing fabrics for esteemed clients such as Brunschwig & Fils, Lee Jofa, and Scalamandré at the Parisian design studio of one of France's last textile manufacturers. As she shares samples of her work, Audinet will also highlight the finer points of these textiles that make them so special.


DATE: Saturday February 27, 2016
TIME: 10:30am
LOCATION: The Textile Museum, 701 21st Street, NW
SUBJECT: Russian Printed Cottons
SPEAKER: John Howe

One set of Russian textiles not treated in the museum's current exhibition Old Patterns, New Order: Socialist Realism in Central Asia, is printed cottons. At this TM Rug and Textile Appreciation Morning, IHBS member, collector and museum Advisory Council member John Howe will review these often humble, but richly colored and ornamented fabrics produced in Russia before 1917 and during the Soviet era. Audience members are encouraged to bring in their own examples of Russian cottons—often used as linings in nineteenth-century pieces—but any Soviet-era pieces are welcome.


DATE: Sunday, March 20, 2016
TIME: 3:30pm
LOCATION: Basement of St. Paul's Lutheran Church, 4900 Connecticut Avenue, NW, at the intersection of Ellicott Street and Connecticut Avenue.
PARKING: Street parking is available on surrounding streets.
SUBJECT: TBA
SPEAKER: Dennis Dodds



DATE: Sunday, April 10, 2016
TIME: 3pm
LOCATION: *Private home of Thomas Cook
SUBJECT: *Private collection of Persian rugs

Sign up information and location will be provided later.

Tom will show us his collection of Persian rugs. The collection is of almost 40 years standing and is limited to weavings from Fars province with a few pieces from Luristan. Within this restriction, it runs the gamut in terms of practical age, attribution, function, structure, presumption of local versus commercial origins, and place within the social hierarchical structure of tribal life. The main rationale for acquiring objects has been aesthetic.


DATE: Sunday, May 1, 2016
TIME: 3pm
LOCATION: TBA
SUBJECT: The Allure of Luxury: The Impact of the Kashmir Shawl on Dress and Design in Persia
SPEAKER: Jeff Spurr

For millennia, export goods have been finding highly receptive foreign markets. Some have also proven to be effective vehicles for the transmission of visual ideas, readily appropriated by the receiving cultures. Such transcultural artistic phenomena represent a marriage of sorts: few valued imports are simply accepted unmediated by issues of taste and use in the recipient societies; complex feedback mechanisms are frequently at work. In the context of international trade in the early modern era, the Kashmir shawl had few equals, the closest parallel being provided by Chinese blue and white porcelain of the Yüan and Ming dynasties. This luxury textile combined rare and fine materials, notable warmth and lightness, an exacting technique of production, and beauty of design. Wherever it was introduced from the 17th through the 19th centuries, the shawl was quickly embraced for practical use and status display, and became a model for efforts at local emulation, and a vector for design ideas.

This paper addresses aspects of commercial, social, textile, and costume history of the Kashmir shawl in relation to Persia, following a description of the emergence of the shawl as a decorated object in early 17th century Kashmir. In order to make my case, I focus particularly on the manner of use of the shawl and shawl cloth (jamawar/yardage) in Persian attire and other textiles starting in the 17th century, and argue for the Kashmir shawl's priority in time, and its dominance over the local development of similarly woven and decorated shawl cloth (termeh), principally in Kerman. I bring evidence to bear particularly from the practice of oil painting for the depiction of elites in Persia starting in the second half of the 17th century, and the evidence of travelers' accounts throughout the period in question to support my argument. I also briefly demonstrate the appropriation of shawl imagery in later 19th century rug design during the revival of the carpet-weaving industry in Persia and the Caucasus.

Jeff Spurr is an independent scholar of Islamic textiles — with a particular focus on the Kashmir shawl and textiles of Central Asia — and of the history of photography in the Middle East. At Harvard University, he devoted 26 years to documenting Islamic visual culture and to the development and management of collections of historical photographs (ca. 1850-1970) of the Middle East, broadly defined. He has curated or co-curated several exhibits, and co-authored books, published articles, and given papers in both fields, and at the intersection of the two.

Spurr has a sustained interest in human rights and cultural heritage, and has focused particularly on the fate of libraries and archives in countries subjected to conflict. In that regard, he engaged in such activities in reference to Bosnia-Herzegovina, where he initiated and managed the Bosnia Library Project (1996-2005), dedicated to rebuilding devastated academic library collections. and Iraq, documenting, publicizing and endeavoring to ameliorate the condition of academic libraries and archives, about which he has written and spoken extensively, starting in 2003. He is also an activist in the service of Palestinian rights.

DATE: Sunday, June 5th, 2016
TIME: 2.30pm
LOCATION: TBA
SUBJECT: The Blue Veil of Ladakh
SPEAKER: Jaina Mishra

Ladakh - a region that lies hidden in the heart of the Himalayas, boasts of the most extravagant and heaviest bridal headdress ever made in the history of mankind. In this talk we explore the cultural and artistic significance of the Blue Veil, the turquoise-laden Perak headdress.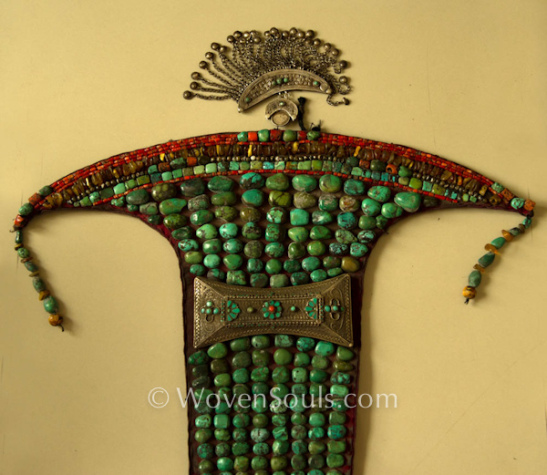 Jaina Mishra is a passionate student of vanishing cultures and traditional arts. She has curated textile art exhibitions, written for Hali and her award-winning cultural photographs have been exhibited in several cities. Jaina holds an MBA degree from Bombay University and is also a member of MENSA. Her web site is here.

DATE: Sunday, October 16, 2016
TIME: 2.30pm
LOCATION: TBA
SUBJECT: Indonesian Textiles from the Roger Pratt Collection
SPEAKER: Roger Pratt

This talk will feature a variety of textiles from Roger Pratt's Indonesian collection and will consider design influences and historical context for the pieces presented. Images from textile travels in the region will supplement the presentation.

Roger is a textile enthusiast, collector, and traveler. He serves on the Board of Trustees of the George Washington University Museum/The Textile Museum and is the outgoing President of New York's rug and textile society, The Hajji Baba Club. Roger recently retired from a 32 year career at Prudential Real Estate Investors where he was a Senior Portfolio Manager for a series of large commercial real estate funds on behalf of pension funds. He and his wife Claire now reside in Washington D.C.


Some Other Upcoming Textile Events and Other Events of Interest


DATE: March 6-May 8, 2016
EVENT: The James F. Ballard Collection of Oriental Rugs
LOCATION: St. Louis Art Museum

The Saint Louis Art Museum has an upcoming exhibition that will present our collection of rugs from James F. Ballard. Here is a link to our press release for the upcoming exhibition, The Carpet and the Connoisseur: The James F. Ballard Collection of Oriental Rugs, opening March 6. We will have a lecture with Walter Denny on Friday March 4, at 11:00am. This free lecture will be held in The Farrell Auditorium. Tickets will be available on metrotix.com on Tuesday, February 2.

DATE: May 19-30, 2016
EVENT: Indonesian Textile Cruise

Notice from British textile researchers David and Sue Richardson:

We are delighted to announce that the dates of our 2016 tour will be 19-30 May. We will again be exploring some of the most beautiful islands of Indonesia - Flores, Lembata, Alor, Timor, Savu, Sumba and Rinca - from the comfort of the beautiful Ombak Putih.

Our days will be spent exploring weaving villages and learning about natural dyeing techniques, plus of course some time for snorkelling and relaxing on deck. Each evening we will give a talk on the people and textiles we will be encountering the next day.

The trip is limited to 22 participants. Why not be one of them and join us for the trip of a lifetime?

Full details can be found in this PDF brochure or by email at hine.house@ntlworld.com


DATE: May 10-22, 2016

The Carpet Study Tour to Turkey with Alberto Boralevi is an unique opportunity for those who love Anatolian carpets. Of course we are all concerned by the situation in Turkey but we hope and pray things could allow the tour. If necessary the tour will be adapted keeping the same dates. We all love Turkey… Here is the link to the brochure.


DATE: June 9-20, 2016

Transylvania & Bukovina is a wonderful mix of cultural vestiges and nature; I was so happy to have on the 2015 tour people from Swizerland. Meeting the local Saxon community, especially for those who speak German, is a real highlight. This year we have some unique features like the presence on the tour of a professional photographer of Brasov, (Eduard Baak) who will produce an album of the tour; here are some of his wonderful photos. Here is the link to the brochure.


DATE: September 13-25, 2016

In September we will have a new edition of the Trip to Italy (13-25 September 2016) in combination with Sartirana Textile Show. This is a wonderful tour designed for who visited already Italy and wants to see more… Here is the link to the brochure