Planned Events
of the International Hajji Baba Society


*Some programs such as salons and home visits marked with an * are open only to Hajji members and require pre-registration two weeks in advance of the event. Information on location and how to register will be forthcoming.


*DATE: Sunday, September 28, 2014
TIME: noon
LOCATION: To be provided to IHBS members

PROGRAM: Annual Picnic

POTLUCK LUNCH: Lunch will be served at 1:00 pm. The IHBS has been holding gourmet potluck meals for many years. Participants should bring a favorite appetizer, salad or dessert. Whatever you bring should serve about six people. The IHBS will provide wine, beer and some non-alcoholic beverages. Austin Doyle will fire up the barbecue grills and we will supply hamburgers and hot dogs.

SHOW AND TELL: IHBS members are invited to bring your newest acquisition to talk about.

Location will be provided in the August newsletter.
(Hint--it's the same as last year.)


DATE: Sunday, October 5, 2014
TIME: 3:30 pm
LOCATION: Arlington County Library, 2nd floor meeting room
SPEAKER: Thomas Murray
SUBJECT: Li Textiles of Hainan: Seeking the Source of Lost Austronesian Iconography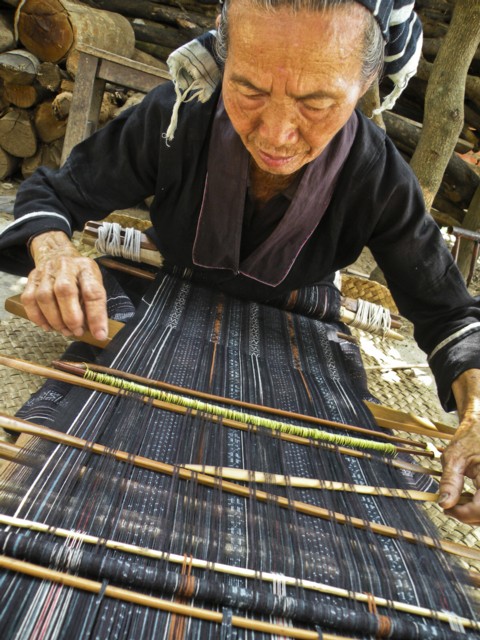 The Li of Hainan Island (off the south coast of China) are categorized as one of China's 55 ethnic minorities. They are speakers of the Tai language group, making them most closely related to peoples of mainland SE Asia like the Tai Lao and the Thai, but their iconography is strongly Austronesian, thereby more related to Indonesia.

Li weavers use a foot-brace back strap loom; the most archaic known very similar to the Bronze Weaver acquired by the National Gallery of Australia in recent years and thought to date to Early First Millennium.

The Li use embroidery, ikat and supplementary weft designs to great effect, with many zoomorphic and anthropomorphic images prevailing. Thomas Murray will offer an introduction to Li culture, history and prehistory; a survey of the primary Li-dialects and their textile techniques and styles; an analysis of Li costume motifs and their relation to the most important of Indonesian textile iconography from Timor to Lampung; and the revelation of his new insight into the "structure vs. iconography: what comes first?" debate.

Tom invites Haji members to bring examples of textiles from Hainan Island for show & tell or other related textiles for post talk discussion.

Thomas Murray is a private dealer of Asian and Tribal art with an emphasis on Indonesian sculpture and textiles, as well as animistic art from other varied cultures. He also features Indian printed trade cloths from the 13th-18th Centuries.

He has placed objects in more that 30 museums on four continents. A HALI contributing editor for the last 20 years, he serves as their "in-house" expert on all ethnographic textiles, with more than 50 publications to his name. He has lectured widely, including "Ottoman Influences on Islamic Calligraphic Batik from Indonesia" and most recently "Lampung Imagery, Textile Iconography of South Sumatra" given at the DeYoung Museum of San Francisco and at the Hong Kong branch of the Asian Society. Thomas Murray is Past President of ATADA, The Antique Tribal Art Dealers Association.

He is comes to us in Washington, as a member of President Obama's Cultural Property Advisory Committee. President Obama said of Murray, "This dedicated individual brings a wealth of experience and talent to his new role and I am proud to have him serve in the months and years to come."


DATE: Sunday, November 16, 2014
TIME: 3:00 pm
LOCATION: TBA
SPEAKER: Ann Marie Moeller
SUBJECT: The Element of Surprise in Japanese Kimono Tradition

Japanese textile scholar Ann Marie Moeller will explore the sophisticated level of kimono and obi design in which a garment is made to change appearance depending on lighting or proximity. Patterns can literally appear and disappear due to a passing cloud or the angle of observation. Many different weaving, embroidery and dying techniques are used to achieve these effects. Hidden designs on linings and under kimono can be revealed by the wearer's movements. In addition, outer wear like haori (kimono jackets) often display a striking lining as the garment is taken off. Few, if any, other cultures have as highly developed an aesthetic of creating garments that surprise in both casual and intimate settings.

Ann Marie Moeller is an independent curator and Japanese textile scholar who has collected kimono since her student years at Harvard. She lectures nationally for a wide variety of institutions including The Smithsonian Associates, The Asia Society, The Textile Museum, The Smithsonian Renwick Gallery, The Waters Art Museum and The Japan Information and Culture Center, Embassy of Japan. Main author of Reading Kimono: Symbols and Motifs in Japanese Textiles, to be published by Schiffer, she has curated textile exhibitions for the Kennedy Center, the International Monetary Fund, the National Cherry Blossom Festival and the Japan Information and Culture Center, Embassy of Japan.


DATE: Saturday, December 6, 2014
TIME: 10:30am
LOCATION: The Textile Museum
701 21st Street, NW
Washington, DC 20052

SUBJECT: Special Textiles of the International Hajji Baba Society

In one of the first Rug and Textile Appreciation Mornings at the new museum, IHBS members will display and discuss rugs or textiles that they consider to be special within a category or special to the presenting member. Many of these have never been shown publicly.

Only a limited number of IHBS members will participate, and each will have a limited time to present their objects. IHBS member participation will require pre-registration two weeks in advance of the event. Information on location and how to register will be forthcoming.


Some Other Upcoming Textile Events and Other Events of Interest


DATE: September 10-14, 2014
EVENT: Textile Society of America Biennial Symposium
Information here


DATE: September 10-15, 2014
EVENT: Pre-ICOC Tour to Lombardia
Information here


DATE: September 15-21, 2014
EVENT: ICOC Tour of Vienna and Budapest
Information here


DATE: October 31 - November 2, 2014
EVENT: International Collectors of Turkmen Carpets

The 35th meeting of the International Collectors of Turkmen Carpets will again be in Hamburg this year, from October 31 to November 2, 2014. The focus will be on the "tree-of-life" motif, and there will be lectures and exhibitions in connection with this theme. The details can be seen here.


DATE: April 2015
EVENT: South Africa Arts and Culture Tour

Anyone interested in an arts and culture tour to South Africa should check out the itinerary found here. The tour tour is being organized by Valerie Hearder, based in Nova Scotia, Canada. Please note that the tour price is in Canadian dollars.


DATE: May 2015
EVENT: Indonesian Textile Cruise

Members of the International Hajji Baba Society with a love of adventure and Indonesian ikat may be interested in joining a small group of enthusiasts to sail around the Lesser Sunda Islands in Eastern Indonesia from May 14 to 25, 2015, visiting local village dyers and weavers. The tour will be led by British researchers David and Sue Richardson. David and Sue have a special interest in Indonesian textiles having visited almost every part of the archipelago during the past twenty-five years.

More information available here and here.